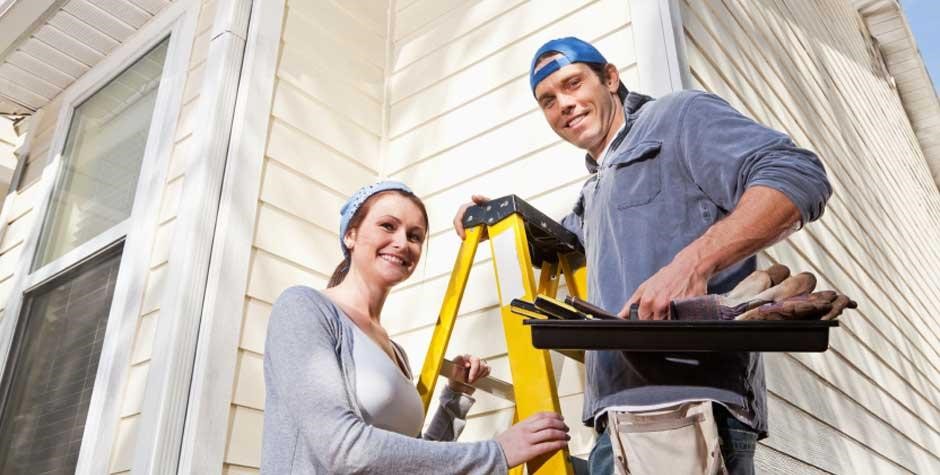 Do it yourself home renovation projects are fun. The anticipation of enjoying the lovely rooms when you're finished is exciting. Just as you plan each step of the renovation, though, homeowners must plan for safety as well.
Diving right into a home renovation project is all well and good, but homeowners should consider the consequences of not planning for safety. You don't want the kids or your pets to either cause or suffer from a random mishap. For example, there's the mashed fingers and toes when something heavy falls on improperly fortified hands and feet.
There are fumes from paint, mold, and mildew causing health problems for an unmasked do it yourselfer, and much more. Here's how to plan for safety in your project.
Safety Equipment for Body Protection
Just as cooks wear a hairnet and apron to protect their hair and clothing, so do DIY-ers need protective clothing for their renovation project. Begin by gathering a hard hat for head protection, safety glasses for eye protection, a mask to mitigate the effects of noxious fumes, and the proper clothing.
Clothing that is too loose can get caught in machines. This damages not only the garment but the human as well. Wear clothing that isn't too tight, but that doesn't flap about either. Long hair can get caught in machines, too. It can fall over the eyes, blocking sight of what the homeowner is doing. Tie back long hair and/or tuck it up under a hat or hard hat to prevent accidents.
Gloves are a necessity. You might be working with chemicals that could damage your skin. You might be working with metals or wood that could put splinters into your skin. If you're working outside, gloves help keep sweat from making your hands slip around machinery. They help you keep your grip on any material with which you're working.
Having Another Person Present for Safety
It's called having a spotter when people jump on a trampoline. The spotter catches the jumper before the jumper falls off the trampoline. If you're going to be on a ladder, on top of the roof, or in the rafters, then you need a spotter. This is necessary for the safety of the DIY-er.
Working on something high up when no one is around is an absolute no-no. If you fell off the ladder, roof, or high area and hurt yourself, no one would know. You'd lie in a heap until someone came home hours later. Serious injuries require immediate medical attention for obvious reasons. Never work in a high area without someone else present.
Using Lifting Equipment Safely
Numerous houses have two and even three stories. This makes roof work for the DIY-er hazardous. Harnesses and lift equipment are a must-have in these situations. The most popular lift equipment is truck-mounted.
The snag to this is that no matter how much roofing material you need, the steep pitch of the roof means that these materials must be lifted a few at a time. Most truck-mounted conveyors only go up to about four stories, so the materials are settled onto the ridge of the roof.
Only work with a truck-mounted lift system with the matching crane and boom. Make sure everything is well maintained to avoid accidents. Ensure only certified and experienced operators are using the equipment. Never allow a crane or boom to operate around power lines. Last, but not least, never move the truck without lowering and locking the crane and boom. Keep that in mind when you look for boom trucks for sale or rent as well.
Home Renovation Safety Tips
First and foremost, get a structural engineer to inform you of the soundness of the structure. You don't want a flawed foundation or weakness from water damage to gum up the renovation works.
Knowing when to call in the pros is the difference between living with black mold and living clean. It's the difference between Chip Gaines-ing a load-bearing wall and knocking down the right one. Unless you're the expert, leave the wiring and plumbing to the pros.
Double-check that your carbon monoxide and smoke detectors are in good working order. Keep your fire extinguisher nearby, and make sure it's good to go and not empty. Keep control of the dust, so that lung problems don't stop your project cold.
Home renovations are fun and exciting. What makes them even more so is doing it safely. It's more satisfying enjoying new rooms when you came through it without a scratch.