[ad_1]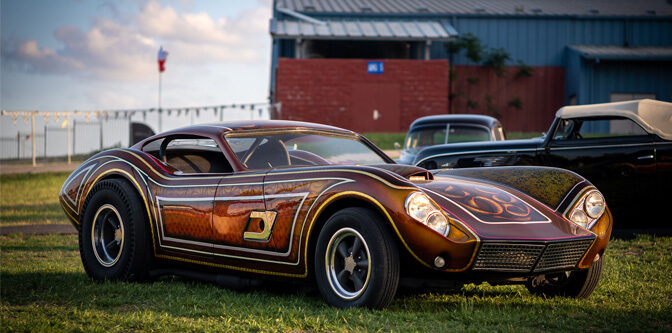 I've always had a thing for the Kellison. There's just something about the air streamed body with an undeniable Italian influence combined with the potential of a Chuck Manning designed chassis that speaks to me. Of course, the Kellison never reached its potential on the race track and maybe that's another reason I love them so… The unmet potential inspires dreams of a redo and thoughts of what could have been.
And so when I saw Dennis Krakenberg's '61 J-5 at this year's Round Up, I knew right away it was going to get one of my picks. I also wanted to shoot it, but the car show environment made that difficult. Determined, I came up with a plan.
I had brought my old travel trailer out to the show and figured I could stay at the venue  overnight and if everything worked out, the sun would still be with me well after all of the spectators had walked through the gates. It worked and at around 8pm, I found myself all alone with the Krakenberg Kellison.
You might remember Krak's Kellison as the old Mooneyes car. In a previous life it was owned by Tom Duttrey and painted yellow with Mooneyes livery. Tom bought the car already powered by a w-motor and shifted through a 4-speed. He added the Americans, some trick plexi work, and sorted a few more details before selling the car to Dennis.
And Dennis? He didn't fart around… He took the car to Phil Leonard (Syrarum Color Studio) and told him to go nuts with flake, gold leaf, and whatever the hell else he had on hand. The result is without question the wildest Kellison ever assembled. And while I prefer my Kellison's to have a more 50's era Grand Prix vibe, I can't argue with this J-5's 60's era drag aesthetic.
In any case, enjoy this mini shoot/feature. I could have taken more shots, but honestly… This was one of those moments when I didn't really want to get lost behind a camera lens. As gorgeous as this car displays in my mediocre photography, it's far better in person.


[ad_2]

Source link